2022 Cotton Gin Safety Initiative Winner
Bulloch Gin, Inc. Wins 2022 Cotton Gin Safety Initiative
AgriTrust of Georgia has announced Bulloch Gin, Inc. of Brooklet, Georgia as the winner of the 2022 Cotton Gin Safety Initiative.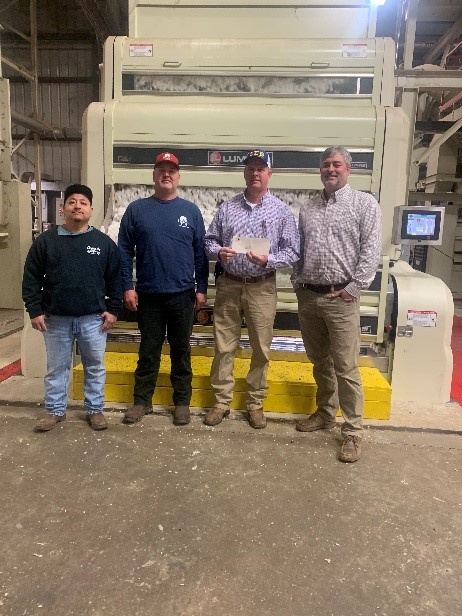 A cotton gin (from the word "engine") is a machine that separates the cotton fibers (lint) from the seeds and other impurities (gin trash) of harvested cotton (seed cotton). Once ginned, the lint is pressed into 480-pound bales and sent to textile mills to be used as yarn or thread, the seed is sold for feeds or oils, and even the gin trash can be sold for feed additive or compost.
Bulloch Gin was founded in 1988 by a group of farmers and businessmen. Back then, Bulloch County only had 2,500 acres of cotton planted, but with the eradication of the boll weevil and advancement in technology, change was on its way. Today, Bulloch County produces over 40,000 acres of cotton and ranks 5th in the state in production.
Cotton gins only operate for a few months each year. From September/October through December/January, these gins will run day and night ginning as much cotton as the farmers can produce. This short but intense season mixed with large, dangerous equipment can become deadly in the blink of an eye. That is why having a strong safety program is a must for every gin. Bulloch Gin, Inc. strives to ensure every worker stays safe. They stress to each employee the value in taking the proper time for each process and not rushing into anything without careful thought. The gin performs regular safety meetings and believes keeping continuity with employee responsibilities is paramount to their safety success. They truly believe preparedness and structure in scheduling helps avoid accidents.
Bulloch Gin's devotion to safety has helped them win the 2022 Cotton Gin Safety Initiative and a check for $2,000.00. With their winnings, Bulloch Gin plans to purchase an AED, or automated external defibrillator, to help in case someone experiences sudden cardiac arrest. This is just another way Bulloch Gin shows their proactive approach to safety. Congratulations for your success and safety!